Most are well acquainted with the royal arms of medieval England.
King Edward III first quartered the royal French arms (Azure, semé-de-lis or: a blue field powdered with fleurs-de-lis in gold) with the lions of England, proclaiming his title to the throne of France. About 1400 King Henry IV following the French example, reduced them to just three fleurs-de-lis.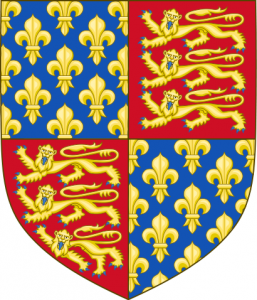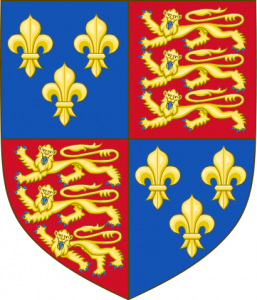 These remained the royal arms of England until the Scottish Stuarts took the throne. Indeed, the French fleurs-de-lis remained part of the coat-of-arms right up to the end of the the 18th century.
The Arms of King Henry VI
As the anointed and crowned King of France, Henry impaled the royal arms of England (already containing the fleurs-de-lis) with the royal arms of France.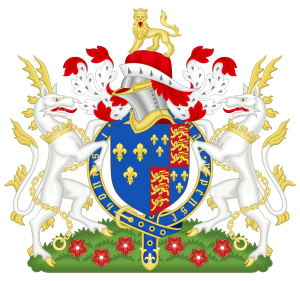 It is thought that King Henry was the first monarch to systematically employ the King's Beasts as supporters for his shield. The favoured beast was the heraldic antelope, also used by his father and grandfather among their badges. This was a fictious beast with serated horns, tuffs of hair, the tail of a unicorn and a tusk protruding from its nose. On the sketch of the earlier funeral monument in St. George's Chapel Windsor, the King's feet rest on the antelope and the lion. It may be seen at the feet of his bronze figure on the lectern in the chapel of King's College Cambridge, on pilgrim badges and on some depictions of the "royal saint" like the fragmentary woodcut of c. 1490 (Henry VI Society Newsletter No. 3, 1973).
Other heraldic beasts attributed to the King are: the lion, the panther and the tiger.
Often in buildings and churches the arms of England are displayed borne in the hands of an angel.